Carlsberg Export Rebrand – Did they get it right?
Carlsberg Export has recently undertaken a rebrand for their British consumers, that showcases their Danish roots. The Carlsberg brand was founded in 1847 by J. C. Jacobsen, with the company's first headquarters located in Copenhagen, Denmark. The company's flagship brand is Carlsberg Beer, which was named after Jacobsen's son Carl. But, it also brews other well-known beers such as Tuborg, Kronenbourg and Somersby cider. Below we're going to take a closer look at the Carlsberg Export rebrand and see whether it was a smart move by the company.
The Carlsberg Export rebrand features a new logo and packaging for the beer, and it is quite different from its former look. The previous logo focused on the colour green and a hops symbol, which has been completely replaced, and is a bold move by the company to step away from the familiar brand colour.
The founder's signature, J.C. Jacobsen, has also been added underneath the name, which adds a personal touch and also adds to the feel of getting back to the brand's roots. A slashed 'o' has also been added to the word Export, which is said to be a playful reference to the letter used in the Danish alphabet.
The new look uses a colour palette of white, copper and a wood effect, which links to their Danish roots as these materials are often used in contemporary Danish design. Cleverly integrated into the design is the use of a cross symbol placed towards the left of the packaging, which is subtly inspired by the Danish flag.
The Carlsberg Export rebrand has been cleverly executed to combat a recent identity crisis and decline in sales, by attempting to attracting a younger audience.
Our branding experts here at Hyphen think that this new look is a good move for the company, giving it a new lease of life. We think the new design has a clean look, and has been modernised well to inspire a younger audience, as set out by the company. We also think that it could attract a more mature audience, that may have previously overlooked Carlsberg or thought that the branding was outdated.
The new branding and packaging for Carlsberg Export begins rolling out in February 2017, and is only rolling out in the UK market. It may roll out even further depending on its success in the UK. A £15 million marketing and advertising campaign will be accompanying the new look. The size of the beer bottle is also being increased from 275ml to 330ml, showing that they are responding to the marketing, as during these financially tough times people are wanting bigger and better deals.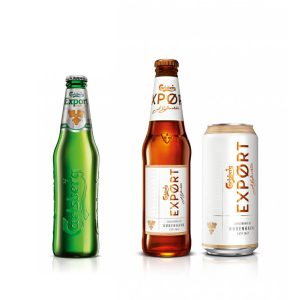 We think that Carlsberg are definitely taking a step in the right direction with their Danish inspired new look and believe that this will reflect positively on their brand.
If the Carlsberg Export rebrand has inspired you to refresh your business' current look, to keep up to date with modern designs, click here to see how we can help.
Until next time,
Sian