Top Design and Marketing Trends of 2017
Here at Hyphen, we are looking forward to another year full of new designs and projects. We believe that the subjects covered in this blog will be the design and marketing trends of 2017 to watch.
Web Design
Gradients
It looks like gradients are going to be making a comeback this year, but in a slightly different way than we have seen before. Before the era of flat design, we were used to seeing subtle gradients, such as Apple's iOS icons. This time, gradients are coming back stronger than ever and making an impact with their bright, bold colours.
Another way gradients are being used is as an overlay for pictures. This is being done to add excitement and depth to images that either aim to switch up your look or to make a photo more intriguing.
Simple Homepages/ Exaggerated use of Space
Website designers are opting for simplistic homepage designs with exaggerated use of negative space, to grab attention and make viewers want more. Information that would normally be visible straight away has been moved to below the fold. This is no extra effort for visitors as we are used to scrolling more on websites regardless of device, thanks to plenty of scrolling on mobile websites.
Custom Typography
Typography is constantly changing and just keeps getting better. With an increasing number of web fonts becoming available, more designers are experimenting with their typography by using interesting and novelty typefaces. By using custom typography, we take a break from the same few sans serifs that seem to dominate designs. Lettering needs to be readable to make sure that users can understand exactly what you are trying to say, easily.
Graphic Design / Branding
Colours
2017s colour of the year award, by Pantone, was granted to the colour 'Greenery'. Pantone says 'Greenery is a fresh and zesty yellow-green shade that evokes the first days of spring when nature's greens revive, restore and renew'. We are expecting to see this being used this year and making an impact.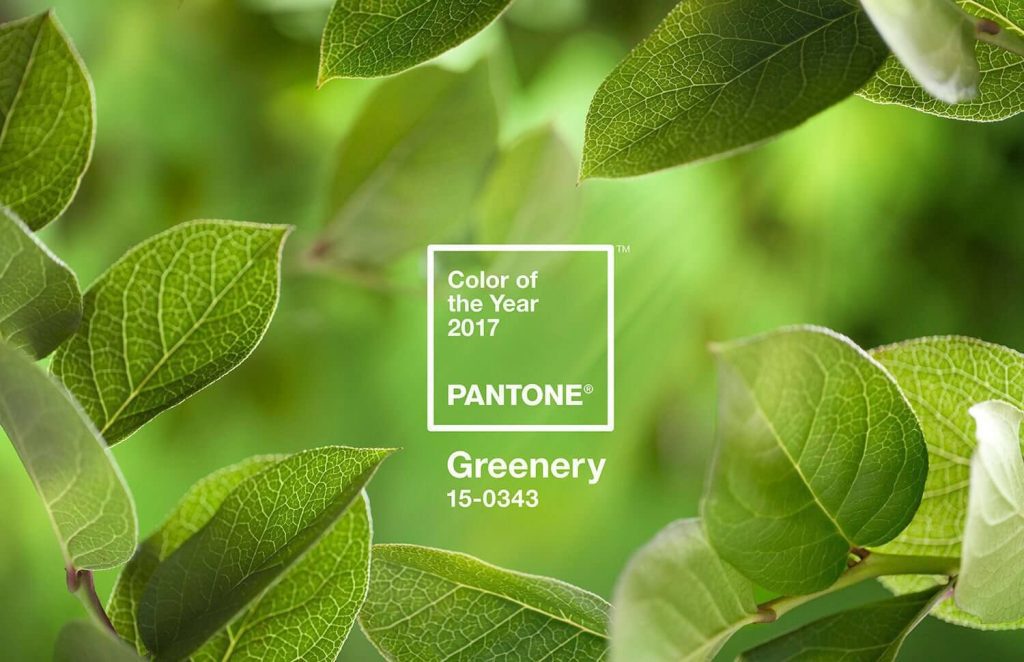 We are also expecting to see colours influenced by rich and earthy minerals and materials, such as brick reds, olive green, maroon brown, khaki and charcoal grey.
Focusing on the Product
As a society, we are becoming more concerned with where our food or product has come from and the process involved in production. Food packages especially are now starting to use transparent packaging and easily readable ingredients, to combat society's concerns. This is also being adopted by technology companies to show what goes into their product.
Companies are also becoming concerned with sourcing materials ethically and providing good working conditions in manufacturing factories.
Simple/ bold logos
Flat design is still going strong with the latest version (flat 2.0) introducing a degree of depth into the designs. Flat design is still influencing the newest logos to be released, as well as being inspired by simplistic and bold designs. Some well-known brands to recently take this direction are the Co-op (which you can read more about here), Natwest, Kodak and BT.

Digital Marketing
Mobile Video/ Live Streaming
 Around 61% of businesses are now using social videos to reach their customers and we are expecting this percentage to carry on rising this year. This is making it increasingly important for businesses to put social video at the top of their agenda for this year. Live streaming is also very popular as it adds a sense of raw authenticity. Instagram has followed in Facebooks footsteps and has also integrated a live video option for their app.
This is making it easier for businesses, some of which may not have a large video budget, to make videos for social media, as it is no longer necessary to have expensive and professional equipment.
Short Lived Content
Snapchat is extremely popular and claims to see over 100million users daily, making it a go to platform for social media. Other businesses, such as Instagram, have also taken a step in this direction by adding a story option to the top of the news feed.
More people are using these short-lived content options to add a sense of exclusivity to those who view your content in time.
Be sure to integrate these design and marketing trends of 2017 to your marketing plan for this year and you will be giving your business the best start possible.
Remember to click the buttons to the left to share this with your friends.
And as always, if you need any advice, please contact us.
Until next time,
Sian