Hyphen's New Brand Identity
Every brand has a story. There are characters that make your brand; there are chapters that document particular stages of growth or change.
And we felt that it was a good time to begin a new chapter in the Hyphen story to reflect where our business is going.
A few years ago, we rebranded from printing.com to Hyphen to reflect the change in focus from print to design, as we had a team of highly skilled creatives who were passionate about communicating branding through innovative design. The name Hyphen was chosen, as it is a link or a connection between two things and for us, this means the link between a brand and its consumer. This also gave birth to our strapline, 'making connections by design'.
In the last 2 years, we have expanded on our branding skills within the team by bringing a brand strategist on board. We are now able to offer a full branding service that includes analysis, strategy and development, and we felt that we needed to take our brand identity to the next level to represent the additional professional skills within the team and the dynamic, innovative nature of our business.
Brand Name
The name and strapline remain the same, as they still fully represent the connection that we have with our clients, and also the connections that we can help our clients make with their customers. We have also added a secondary tagline: BRAND / DIGITAL / CREATIVE to reflect the main areas of speciality.
Logo
As you can see, we haven't made any major changes to our logo. We chose to modernise it by changing the 'H' to lowercase, making the font narrower and taking the curve off the 'y'.
We have added 'creative agency' underneath our logo, but will also have a version without the text, for when the logo needs to be small or when it is used with our secondary tagline: BRAND / DIGITAL / CREATIVE.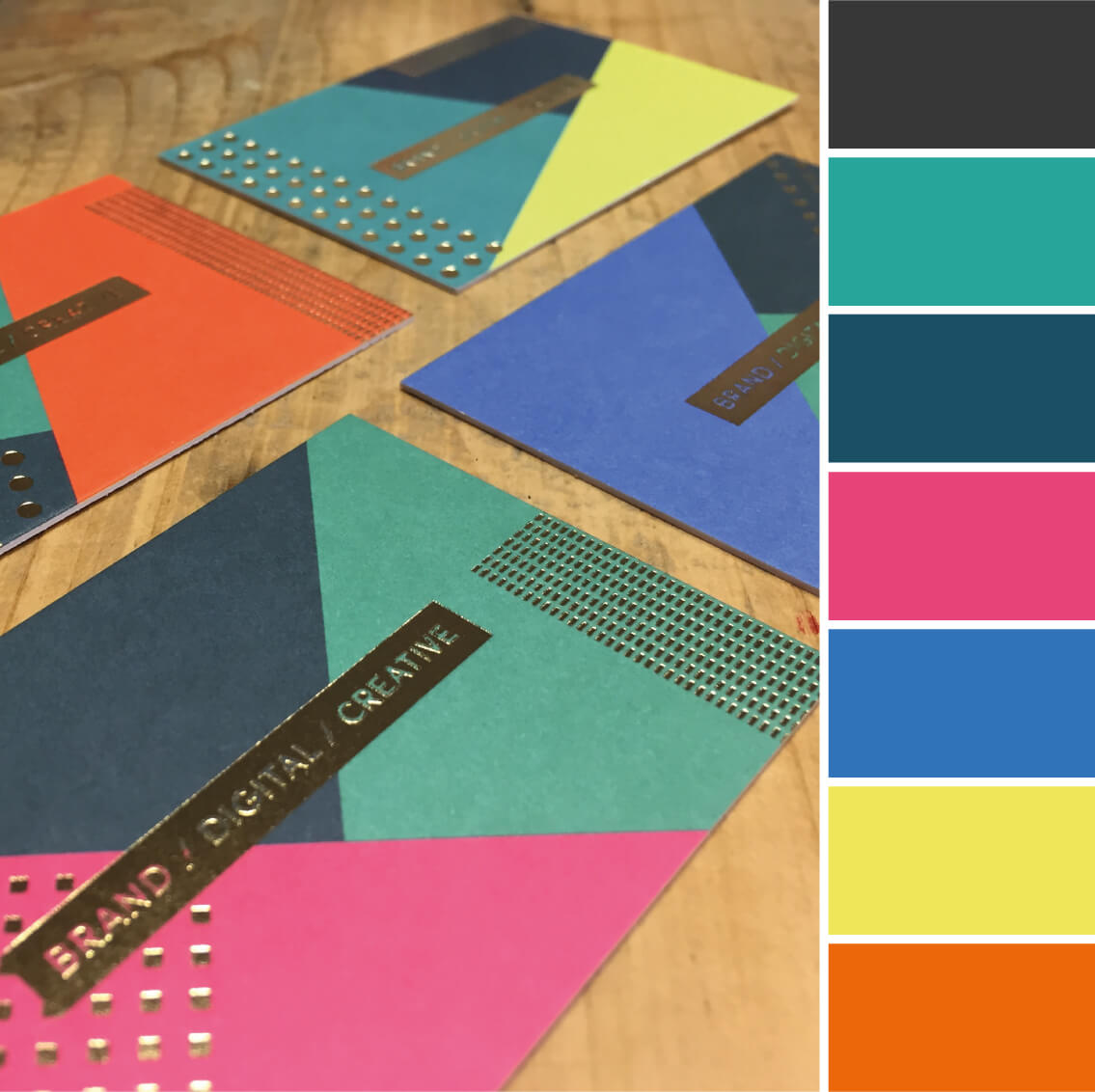 Colours
The previous Hyphen branding only used a teal shade of green and 2 shades of grey. One of the things we really wanted to do with our rebrand was to really inject some colour into our branding, to represent our vibrancy and versatility. A multi-colour identity also reflects our multi-channel approach to design and marketing for our clients.
We have brightened the teal, but kept it as our main brand colour, as green shades represent growth, and our aim is to produce branding that will help our clients to grow their business. But we have now added in several other bright colours to compliment the teal, as you can see in the colour palette above. Each member of the team has a personal colour on the reverse of his or her business card to add variety and give an individual look.
Fonts
Our main logo font remains the same, but as mentioned above, we have edited it further to modernise it. We have changed our main corporate font to Sofia Pro, which is a modern and flexible font that has several weight variations so that we can add variety to our marketing materials. We have also added hand drawn text into our brand identity, created by our illustration expert Emily, which adds a lovely personal look.
Brand Identity
Our overall brand identity is what has changed the most in our rebrand. Our previous use of craft material and craft imagery has been replaced with bold colours, shapes and more dynamic language to reflect Hyphen as a business now.
We have taken a rectangle, the shape of a hyphen, and used it in a variety of colours, sizes and rotations to create bold, vibrant designs. A rectangle is a familiar and trusted shape, which represents honesty for a brand. However, because it is the most common shape, it can also be seen as boring, which is why we have played around with it so much to create designs that have visual impact. The diagonal lines that we have created by rotating the hyphens also represent dynamism, liveliness and vibrancy.
We would love to hear what you think about our new look, so please leave a comment below, or feel free to drop us an email.
Until next time,
The Hyphen Team