How to Get Your Brand Noticed at Exhibitions
If you have a brand identity to be proud of, you want to display it at its best in every instance. One of the largest formats it will be used in, is at events and exhibitions, where passers-by will automatically form a perception of your company based on your visual identity. It may be the difference between whether they decide to stop and talk to you or not.
From your logo, brand identity and style of your exhibition banners, through to your choice of banner and material type; they all create that important first impression. The people on your stand also represent your brand, so it is essential that they are reflecting your brand's personality and values.
A few weeks ago, Hyphen exhibited at the Love Business Expo at Donington Park and we wanted to showcase our dynamic new branding so that we would be easily noticed amongst the other exhibitors. We know that our brand style, with its bold geometric shapes and bright colours stands out, so we kept the designs simple, to let the brand identity do the talking. We also chose a unique exhibition stand, to show our creativity, which can be seen in the image below. The front panel of the bridge allowed us to bring the key information right to the front of the stand so it would really get noticed and read by visitors. We completed our stand with a branded desk and cube seats to create a consistent brand image across the whole stand.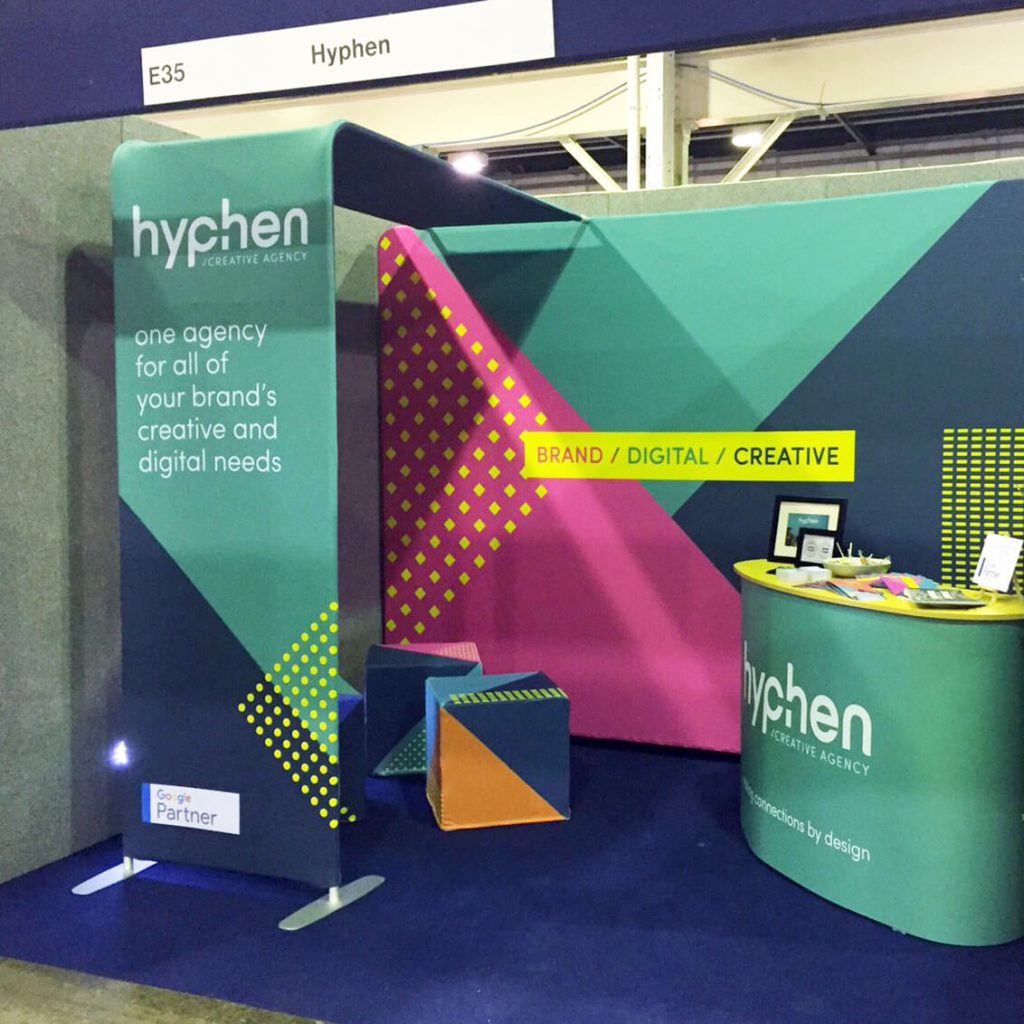 Here are a few tips on displaying your branding at its best at exhibitions:
Ensure your exhibition materials are consistent with your branding guidelines and all your other marketing materials.
Don't have too much text on your banners – people don't have time to read it.
Avoid information too low down as it's likely you will be standing in front of it.
Choose one main message for your banners/stand.
If you want to have promotional giveaways, choose items that are relevant to your brand.
Don't fill your stand with clutter. Try it out beforehand in the correct space and decide what items are essential and what could be left behind.
If you are looking to make a big splash at your next exhibition, Hyphen can design something unique that will attract attention, whilst still adhering to your branding guidelines. We can also make recommendations for the best type of banners and materials for your brand style and manage the printing and production of exhibition stands and display material.
If you need any help with making the right impression at your next exhibition, please contact us.